Pay Tuition Now
CLASS FEES – 9 TOTAL INSTALLMENTS
2020-2021 Dance Connection - Registration
| | |
| --- | --- |
| ½ hour/week | $54.00/month |
| 45 minutes/week | $56.00/month |
| 1 hour/week | $59.00/month |
| 1-1/4 hour/week | $65.00/month |
| 1-1/2 hour/week | $70.00/month |
| 1-3/4 hour/week | $76.00/month |
| 2 hours/week | $82.00/month |
| 2-1/4 hour/week | $87.00/month |
| 2-1/2 hour/week | $93.00/month |
| | |
| --- | --- |
| 2-3/4 hour/week | $98.00/month |
| 3 hour/week | $104.00/month |
| 3-1/4 hour/week | $109.00/month |
| 3-1/2 hour/week | $115.00/month |
| 3-3/4 hour/week | $120.00/month |
| 4 hour/week | $126.00/month |
| every ¼ hour/week | add $6.00/month |
| Private Lessons (1/2 hour) | $20.00/week |
| Semi-Private (1/2 hour) | $16.00/each/week |
| Trio (1/2 hour) | $14.00/each/week |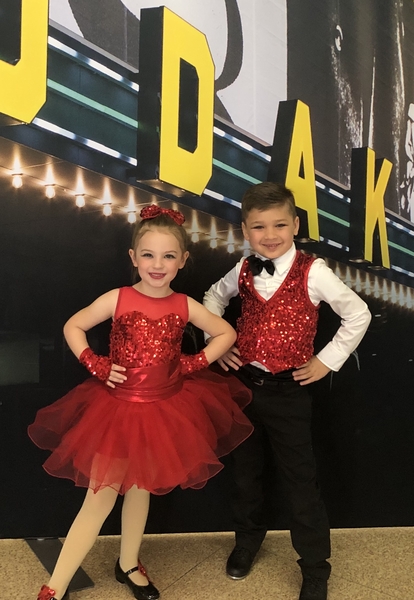 TUITION IS BASED ON NINE INSTALLMENTS SEPTEMBER 2020 THROUGH MAY 2021. TUITION IS DUE BY THE FIRST CLASS LESSON OF EACH MONTH.
Tuition is the same amount every month, regardless of absence, holidays or bad weather. Tuition is not reduced by absence from class and is non-refundable. Missed lessons may be made up during another class of same age and ability. In case of bad weather, YOU must call the studio to find out if class is scheduled, if not, you may make up the missed lesson. No make-up lessons allowed April through June.
If more than two months of tuition goes unpaid, dance lessons will be suspended until account is up to date.
PRIVATE LESSONS: Tuition is based on the number of lessons in month. Twenty-four hour ADVANCED cancellation notice, must be received by us, in order to receive make-up lesson. Otherwise, no make-up allowed and lesson must be paid for. There is a limit of 2 make-up lessons per year.
SIBLING DISCOUNT:
2 students immediate family deduct $5.00/month & 3 students immediate family deduct $10.00/month
A $10.00 LATE CHARGE WILL BE ADDED TO YOUR ACCOUNT AFTER THE 15TH OF THE MONTH.
A $35.00 FEE WILL BE ADDED FOR ANY CHECK WITH INSUFFICIENT FUNDS.
$25.00 REGISTRATION FEE, IF REGISTER AFTER JULY 4, 2020.
COSTUME DEPOSIT! A deposit of $50 per dance is due no later than November 1st. Costumes will not be ordered for students without full costume deposit being paid. NO EXCEPTIONS. A total costume balance will be due January 9. Costume will not be distributed if not paid in full.Our recital is held in June. There will be a recital fee due in April.
FALL SESSION STARTS MONDAY, SEPTEMBER 14. We will be closed the following dates: Columbus Day, Monday, October 12; Thanksgiving, Wednesday, November 25 – Sunday, November 29; Christmas, Thursday, December 24 – Sunday, January 3; Martin Luther King Day, Monday, January 18; February Recess, Monday, February 15 – Sunday, February 21; Spring Recess, Monday, March 29 - Sunday, April 4; Memorial Day, Monday, May 31.
VISITOR'S WEEK will be held December 7-12. All relatives and friends are welcome to observe during this time (there may be restrictions).